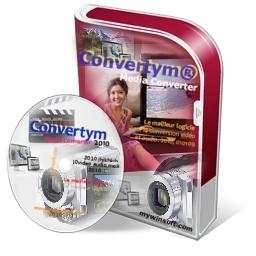 Convertym - Media Converter 2010 ©



Compatibility




Convertym - Media Converter 2010 © software
You want to convert a video file or a list of files from a format to another?
You can not open or play your video file (codec problems, video player, Windows compatibility, etc.)?
You want to convert any video/audio format to any format with one mouse click?
You want to import your video files from your camera to your PC?
You want to watch your video on an HD screen (Full HD ou HD Ready)?
You want to extract a part of your video whatever its size?
You want to synchronize the sound (audio) and the image (video) of your video file (sound lagging, bad encoder, etc.)
You want to extract music from a video file?
You want to watch your video files with you DivX home device?
You want to change the format or the compression of a video whatever its original format?
You want to transfer your videos and music in a compatible format readable on youriPhone, mobile phone, mp3 flash, DVD reader, or any multimedia/mobile device?

You want to edit your video with your favorite software that can not read the original format of your video?
You want to create several versions of different formats of your video?
You want to ripp a DVD containing your videos?

Whatever the size, the format, the extension and the source of your vidéo or audio file, Convertym is THE software of reference that you need..

Simple to use, efficient and the fastest software compared to the existing softwares at a low cost..

Convertym - Media Converter 2010 © software is based on the latest multimedia technologies of encoding/decoding and processing videos and audio formats with the best optimization of the media processing. Its the simplest interface, that you need, to gain access to all theses technologies..

An efficient technical support is provided to guide and follow you on any kind of use or difficulty that you meet whatever your level, background and experience..

With Convertym - Media Converter 2010 ©, you can -easily- convert an unlimited number of videos from any format to any format with one mouse click. Very simple to use, the software guarantees your success in your multimedia experience. You will never heard about non readable format on your PC, TV devices, mobile, DVD home device, Playstation, XBox.. In addition to the video/audio conversion capacities, the software allows to correct, synchronize and extract video parts to make video/audio processing easier for you.. Convertym guarantees video/audio conversion and supports a huge majority of formats such as : HD/HD Ready videos, TNT, Fash, iPod, iPhone, iTouch, XBox, Playstation and Playstation portable, DVD, Camcorders videos, Quick Time, M2TS, M2T, TOD, MTS, FLV, F4V, F4P, MOV, QT, MP4, M4V, WMV, ASF, FLIC, FLI, TS, TP, NSV, DAT, DV, GPP, 3GP, 3GP2, 3G2, VOB, VRO, OGG, OGM, OGV, RM, RAM, RMVB, RV, IVR, MKV, MPG, MPEG, MPE, MP2, MOD, MVV, M2V, M1V, WAV, MP3, SND, AU, AIF, AIFC, AIFF, WMA, AVI, DIV, DIVX and many others..
Why choosing Convertym - Media Converter 2010 © ?

Convertym - Media Converter 2010 © is the simplest and the more efficient interface of video and audio processing, conversion, synchronization and extraction. You have a problem with a particular format or file? You are lost? Calme down, our technical support of Convertym is here to provide you assistance and will follow you in your technical difficulties until you reach your goal. the full version of Convertym is available at a very low cost (compared to all the existing products). You do not have to pay any recurring charges or make any special subscriptions.. Once you order the software, it will be yours in an unlimited way! The technical support will be near to you and will provide you helps and technical assistance in all your difficulties.
Features
| | |
| --- | --- |
| | Simple and efficient to set up and use |
| | Convert the huge majority of video and audio formats to an excellent quality and optimal size |
| | Support of HD/HD Ready videos, TNT, Fash, iPod, iPhone, iTouch, XBox, Playstation and Playstation portable, DVD, Camcorders videos, Quick Time, M2TS, M2T, TOD, MTS, FLV, F4V, F4P, MOV, QT, MP4, M4V, WMV, ASF, FLIC, FLI, TS, TP, NSV, DAT, DV, GPP, 3GP, 3GP2, 3G2, VOB, VRO, OGG, OGM, OGV, RM, RAM, RMVB, RV, IVR, MKV, MPG, MPEG, MPE, MP2, MOD, MVV, M2V, M1V, WAV, MP3, SND, AU, AIF, AIFC, AIFF, WMA, AVI, DIV, DIVX and many others.. |
| | Fast files conversion, simultanous and accelerated of a video/audio file or an unlimited list of files with a personalized format that you can choose for each file |
| | Best conversion quality that allows, if you want, to save your files with the maximal possible quality |
| | Simple and intuitive interface: you do not need any complex configuration or prealable set up (only for very advanced used). |
| | No limit regarding the number of converted files or lists, no required subscriptions or recurring charges |
| | Qualified online technical support guaranteed |
| | Certificated software, reliable and clean from any advertisement, virus or spy |
| | Compatible with the Windows operating systems : Windows Vista, Windows XP, Windows 2000, Windows 98, Windows 2003, Windows 95, Windows ME, Windows NT 4.x, Windows Millenium.. |
| | Immediate and online download after ordering the software |